Privacy Policy
Western Logistics Ltd privacy statement (Company Reg No 5254506) sets out the basis on which your personal data, provided to us, is collected via our Website, Applications and Services, and how it will be processed by us to complete services on your behalf. Western Logistics Ltd, its operating partners and agents are committed to safeguarding the security of the information we collect.
If you do not agree with this Privacy statement, you should not use our services or website.
Statement of Data Protection and Privacy
Western Logistics Ltd is committed and complies with all Data and Privacy Legislation and will ensure that your personal data will be used only for authorised purposes.
Western Logistics Ltd will only use personal data in our possessions for its intended purposes. Your personal Data may be transferred to contracted third parties (e.g. courier companies, freight forwarders, overseas agents) external to us or within the group for the purpose of providing services to you.
Our Services Providers are obliged to keep your details securely, and use them only to fulfil the service they provide you on our behalf. Once your service need has been satisfied or the case has been closed, they will dispose of the details in line with Western Logistics Ltd procedures. If Western Logistics Ltd is required to pass your sensitive personal data onto a third party we will only do so once we have obtained your consent, unless we are legally required to do so.
Information we Collect
The personal data we collect from you via our website, email, letter or phone calls will be used for the following purposes:
Name, address, phone number, mobile number and email address will be sent to our delivery agent to either arrange collection or delivery.
Name address, phone number, email address will be entered onto an invoice and retained as an accounting record and may be audited by HMRC.
If you apply for credit with Western Logistics Ltd, we will pass certain data to credit checking websites (Company Searches Made Simple) in order to complete a credit check.
Western Logistics Ltd will only use your name and email address for Marketing when you explicitly consent to this. You may withdraw this consent at any time by emailing or by clicking on the opt out link in any email marketing we send you.
Under the Data protection Act you have a right to seek access to personal information which we hold on you. You can submit such a request via email to or to the company address above by post and we will respond within 48 hours and provide a copy of the data within One month.
If any of the date we hold on you is inaccurate, please email . Western Logistics Ltd may require proof of identification depending on the nature of the data correction required.
The Supervising Authority in the UK is the Information Commissioners Office .(www.ico.org.uk)
We process your data sometimes based on your consent, sometimes in the legitimate interests of Western Logistics, and sometimes when necessary for entering or performing a contract with you, and sometimes to comply with the law.
Data Retention Policy:
transactional data -invoices etc 7 years.
emails 5 years unless contractual/warranty related.
website order data 8 years or if no order history 2 years
We will need to keep any invoices for 7 years for HMRC and will keep them as business records and sometimes we need to keep your data for one of the above reasons. We will ensure your data is kept securely and is only available to authorised individuals.
What is Personal Data?
Under the EU's General Data Protection Regulation:
Personal Data is defined as "any information relating to an identified or identifiable natural person ('data subject'); an identifiable natural person is one who can be identified, directly or indirectly, in particular by reference to an identifier such as a name, an identification number, location data, an online identifier or to one or more factors specific to the physical, physiological, genetic, mental, economic, cultural or social identity of that natural person".
Special Categories of Personal Data
Certain data are classified under the Regulation as "special categories":
Racial
Ethnic origin
Political Opinions
Religious Beliefs
Trade-union membership
Genetic Data
Biometric Data
Health Data
Data concerning a natural person's sex life
Sexual orientation
Other
How Western Logistics Ltd uses your information
Western Logistics Ltd uses the information you provide in a manner that is compatible with the EU's General Data Protection Regulation (GDPR). Western Logistics Ltd will endeavour to keep your information accurate and up to date and not keep it for longer than is necessary. In some instances the law sets the length of time information has to be kept, but in most cases Western Logistics Ltd will use its discretion to ensure that we do not keep records outside of our normal business requirements.
Our aim is not to be intrusive, and we undertake not to ask irrelevant or unnecessary questions. Moreover, the information you provide will be subject to rigorous measures and procedures to minimise the risk of unauthorised access or disclosure.
IP Addresses and Device Data
In order to provide our services, when visiting the Western Logistics Ltd website we collect your IP address and other information such as the domain and host from which you access the internet.
Third Party Websites and Applications
In order to provide our services Western Logistics utilise third party websites (platforms with agents, freight forwarders, shipping lines, airlines, courier companies) to fulfil your transport requirements, and applications like Twitter and Linked in.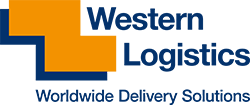 Have any questions?

0845 1 222962
info@westernlogistics.co.uk